VADUZ, Liechtenstein, 8 January 2021 – A recent study by the Dental School of the University of Sao Paulo in Brazil published in the scientific journal "Gerondontology", reported on the efficacy of bonyf's NitrAdine® disinfecting effervescent denture tablets ("NitrAdine® tablets"). The study compared bonyf's NitrAdine® tablets and Fixodent's effervescent tablets in relation to reducing pathogenic multispecies biofilm found on dentures. The biofilms were composed of Candida albicans, Pseudomonas aeruginosa and Staphylococcus aureus.
69 denture-based specimens were contaminated for 24 hours with the 3 aforementioned micro-organisms to form complex biofilms. The contaminated specimens were exposed to bonyf's NitrAdine® tablets, Fixodent tablets, and a control solution, for a total of 15 minutes. Biofilm viability reduction measurements showed that bonyf's NitrAdine® tablets exhibit the highest efficacy against all 3 micro-organisms, when compared to Fixodent (see table below).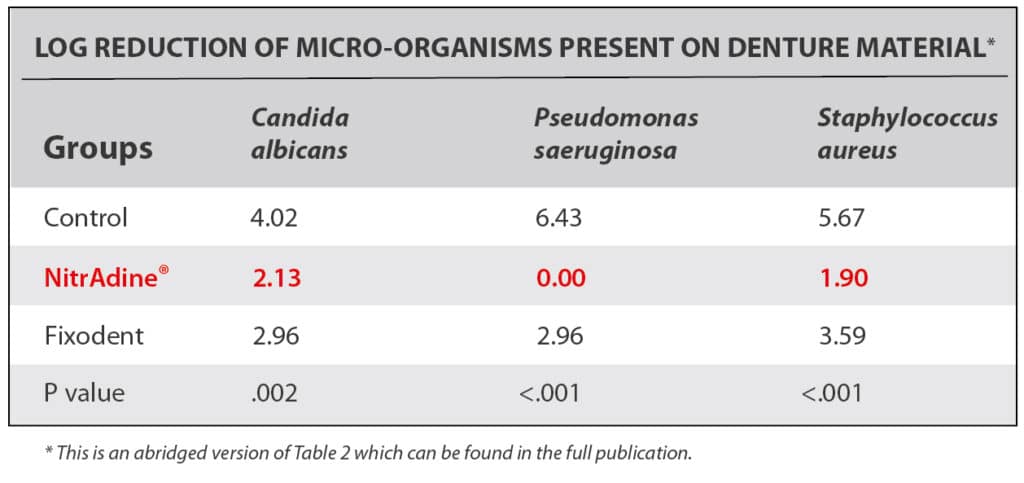 Within the limitations of the study, the authors concluded that NitrAdine® tablets are more suitable as a complementary agent for denture cleaning to control multispecies biofilm which is proven to be associated with denture stomatitis and respiratory infections such as pneumonia and systemic heart diseases. These symptoms are often observed in elderly people who wear dentures.
For more detailed information: https://onlinelibrary.wiley.com/doi/abs/10.1111/ger.12500
A copy of the full publication is available on request.